We enable all the information to flow continuously between NetSuite and other applications in your environment
NetSuite utilizes the industry standard for building reliable and scalable integration that can be able to extend the business process. Netsuite integration securely exchanges the data from your NetSuite account on both on-premise as well as a cloud-native environment, when your application architecture calls for direct API integration by using REST APIs or SOAP APIs.

For example, if you are having a middleware product that needs to be integrated with an already existing system, then the use of Netsuite will secure the source data without disturbing any updated data and, if you want to adopt any third-party applications or services, NetSuite can able to integrate them with already existing end system applications.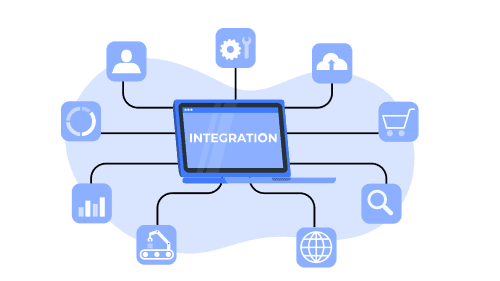 How do we help you in integration as an
authorized NetSuite Partner?
EmphoraSoft provides NetSuite integration services to harness the benefits of integrated applications. We can manage NetSuite integrations with standalone applications, web stores, or fully-built systems.

Our NetSuite integration services are offered for various applications and web services to deliver a hassle-free business management experience to the customers such as Database, Data Migration across different platforms, Web Services (Amazon Web Services), Mulesoft, Dell Boomi, Celigo (SaaS) with Magento (Open source), Magento, Shopify, BigCommerce (eCommerce), WooCommerce, EBS, SAP (ERP), Salesforce, Zoho, SugarCRM (CRM), POS. EmphoraSoft provides NetSuite integration services to harness the benefits from the integrated applications. We can manage NetSuite integrations with standalone applications, web stores, or fully-built systems. We are expert in handling both cloud-based and on-premise applications integration for different businesses.
We know what NetSuite can do and how it can help you. Schedule your free NetSuite assessment today
Hear from our happy customers
We are thoroughly impressed with the overall progress we've been making on this integration project. It's a testament to the hard work and dedication you've put into it. I sincerely appreciate all your efforts and the collaborative spirit we've had. I'm really looking forward to successfully completing this project and, hopefully, tackling many more exciting ones together in the future.
Keep up the great work, EmphoraSoft!
Founder + CEO, Information Technology & Services, ON, Canada
We worked with EmphoraSoft for building SuiteApp on the NetSuite platform for Zinrelo. Their team has very good expertise in NetSuite scripting and solutioning. They have delivered a high quality product keeping in mind the time deadlines. They are reachable and a great team to work with. I would strongly recommend EmphoraSoft for NetSuite implementations.
Yahya, Engineering Manager, Zinrelo, FL, USA
The integration of NetSuite with Mindbody has been a game-changer for our business. It has drastically reduced the manual effort required to validate transactional updates, freeing up our valuable time and resources. EmphoraSoft's expertise in implementing NetSuite has made this transition seamless, simplifying our daily operations leading to significant business success.
NetSuite Manager, Personal Care Product Manufacturing, UAE
EmphoraSoft has been an invaluable partner for our business. Their NetSuite customization, website integration, and payment gateway solutions have made a remarkable impact on our operations. EmphoraSoft's exceptional support in managing our websites and providing day-to-day NetSuite support ensures our business runs smoothly.
Business Manager, Flooring Company, FL, USA
EmphoraSoft has been instrumental in addressing a critical challenge we faced with our Suite Commerce Portal. Their solution on integrating NetSuite Suite Commerce with Smarty Streets, has been a game-changer. Now, all addresses are thoroughly validated, ensuring 100% accuracy. This has significantly reduced incorrect shipments, saving us time and resources. We're immensely grateful for EmphoraSoft's expertise in solving this problem and their commitment to our success.
Senior Manager, Civic and Social Organization, NY, USA
EmphoraSoft's seamless integration with NetSuite provides us with real-time access to quotes, orders, invoices, and even allows us to process payments efficiently. This level of visibility has greatly improved our customer service and financial operations. Additionally, the portal's partner registration and tier management features have enhanced our collaboration with partners, offering them complete insight into their customers. The ability to broadcast messages about events and promotions is a fantastic tool that keeps everyone informed and engaged. EmphoraSoft has truly elevated our communication game!
Senior Manager, Design Services, FL, USA
EmphoraSoft's NetSuite Advanced Manufacturing implementation has truly transformed our business. The integrated cloud platform has given us unprecedented control and visibility throughout their manufacturing process, consolidating our operations into one efficient system. This shift has led to remarkable improvements in operational efficiency, with a reduction in 'Cost to Produce' and a significant decrease in dependencies on disconnected third-party systems. EmphoraSoft's expert team of Solution Architects transformed our business from Order-to-Cash through Build-to-Ship, leveraging NetSuite's capabilities to optimize shop floor planning and significantly reduce operating costs, making us more profitable.
NetSuite Director, Manufacturing - Fabricated Metal Products, MI, USA
We are pleased with EmphoraSoft's Gantt Chart development based on Projects and Resource Skill set. This tool has revolutionized our project management by providing us with a clear and visual representation of our project timelines and resource allocation. It has enabled us to make more informed decisions, allocate resources efficiently, and streamline our project workflows. EmphoraSoft's expertise in developing this solution has greatly improved our project planning and execution, and we couldn't be happier with the results.
Senior NetSuite Manager, IT Services and IT Consulting, UK
EmphoraSoft's expertise in building NetSuite Integration with our system has been a game-changer for our business. Their seamless integration solution has allowed us to automate processes, synchronize data, and improve the overall efficiency of our operations. This integration has not only saved us time but has also reduced the likelihood of errors in data transfer. EmphoraSoft's team demonstrated exceptional skill and dedication throughout the integration process, ensuring that it met our specific needs.
CEO, IT Services and IT Consulting, NY, USA